Logo making contest
Open to all current students of DIS
---
The Dominican International School in Taipei, is celebrating her 60th founding anniversary in the year 2017. This marks a significant event in the transformation and growth of the Dominican International School as a mission and institution. The celebration would radiate a rays of various activity that recognizes the significant moments in the existence of Dominican International School. One of those is the creation of a Diamond Jubilee logo design that would symbolize the 60th anniversary of DIS which will also be used for any purposes pertaining to the celebration.
The work must strictly follow the rules and guidelines of the contest.
The contest is open to all current students of Dominican International School
The entries should essentially be a translation of the theme
All entries must be reflective to the following key elements (D'TORCH flames, Name of the school, the 60th year founding anniversary, diamond Jubilee anniversary, and the theme)
Entries must denote the 60th year - Diamond Jubilee anniversary of the DIS and her development towards the present
A participant should submit only one (1) entry
The participant may work on any appropriate paper or ground of A4 size as ground for designing
The participant may use any of the drawing or painting media provided that it should be FINISHED or dried at the day of submission
Unfinished entries will not accepted
and, contestants should give a short statement describing their design to support the clarity of presentation
The mechanics of the contest:
The judges will choose the top three (3) among all entries
The top three (3) will receive bookstore coupons
There will only be ONE winner
The judges decision is final
Winning entry will still be subject for enhancement and suggestions from the judges if necessary
The top three (3) winning entries are as follows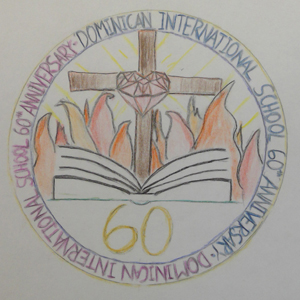 1st Place: Elsa Yee Cheung, G7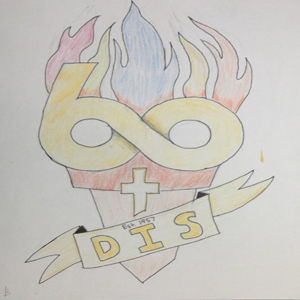 2nd Place: Evan Chang, G8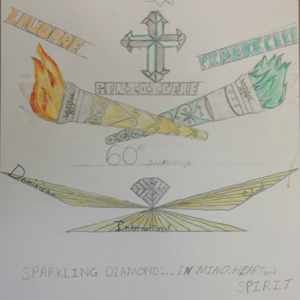 3rd Place: John Doe, G6
Mr. Jofil Collado, the art teacher and also one of the judges, said that it was a meaningful and successful activity. The first place received a 3,000 NT$ cash coupon from a bookstore. The second and third placers received 2,000 NT$ and 1,000 NT$ bookstore cash coupon respectively.