DIS celebrates Teachers' Day
---
The whole studentry celebrated the Teachers' Day last September 27, 2017. Teachers' Day is a special day for teachers, which is an annual event that DIS students show appreciation to their teachers. Hiro Fu, the Student Council President, led the students in welcoming the faculty of DIS Taipei. All teachers were called to sit in the middle of the assembly area as they witness the program prepared for them. Each teacher was treated with a welcome drink that served as a warm greeting for the occasion. It made them relax while enjoying the program. The student council prepared a short film that involved some of the teachers sharing their moves in dancing. In return, the student council officers did a dance number in front of all students and teachers.
Sr. Ma. Zenaida T. Ancheta, OP, the Directress/Principal, Sr. Socorro Teofilo, OP, the Vice Principal, and Sr. Leticia Delfin, OP, the Prefect of Discipline, witnessed the event. Also, some members of the Volunteer Involved Parents (VIP) graced the occasion. Fr. Dexter Austria, OP, this year's faculty and staff recollection facilitator was also present.
The VIP had the opportunity to honor the retiring, Mr. Jimmy Chu. He has been with DIS Taipei since 1998 as a receptionist. They gave him a gift and a global poster map. The global poster map contains messages from the students. He was very emotional for he treated DIS Taipei as his second home. He was well loved by the students, especially the lower graders. Although it was a very humid day, this did not dampen the spirit of the DIS Taipei community.
After school, the Dominican Sisters, led by Sr. Zenaida, acknowledged the hardwork and dedication of the faculty and staff by handing them a simple token of appreciation. They awarded Teacher of the Year to Mr. Elliott Wakeling; 2017 D'Torch Award to Ms. Janice Doyle; and Star Service Award to Ms. Mercia de Souza.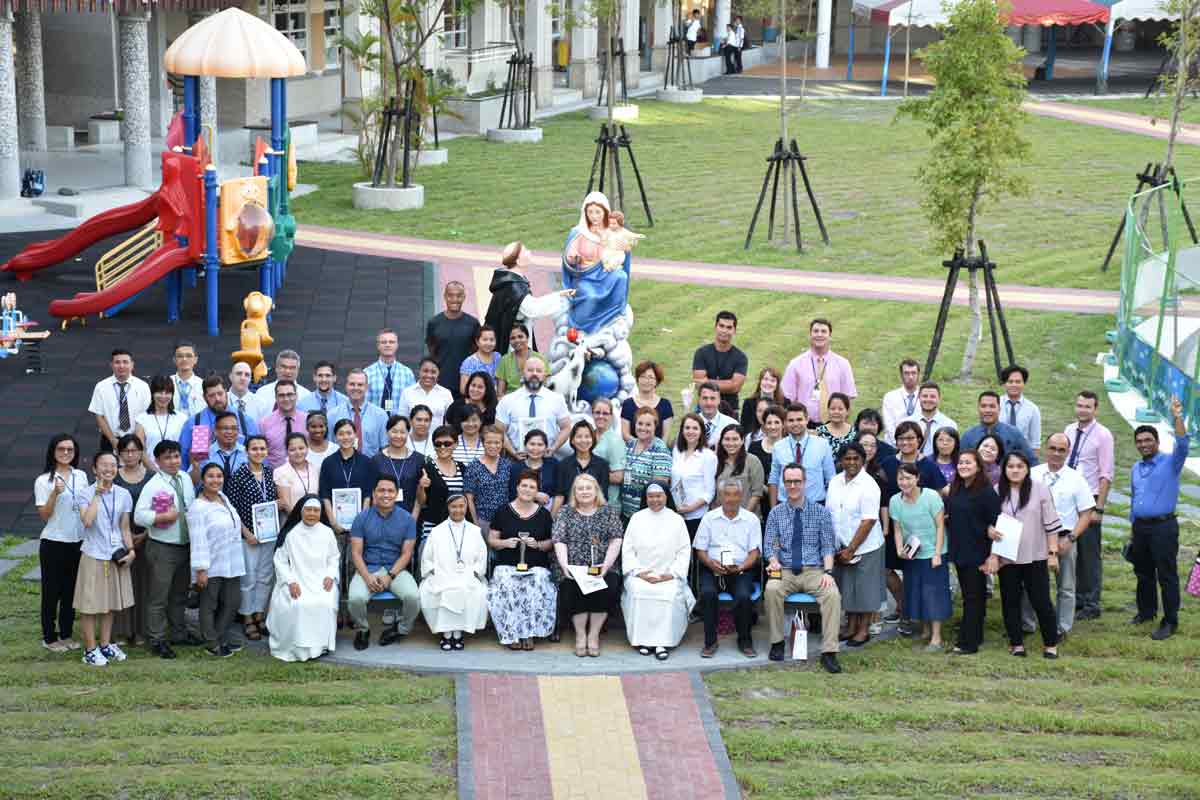 The 2017-18 Faculty and Staff together with (seated from left) Sr. Leticia Delfin, OP, Prefect of Discipline, Fr. Dexter Austria, OP, Sr. Socorro Teofilo, OP, Vice Principal, Ms. Janice Doyle, 2017 D' Torch Awardee, Ms. Mercia de Souza, 2017 Star Service Awardee, Sr. Ma. Zenaida T. Ancheta, OP, Directress/Principal, Mr. Jimmy Chu, the retiree and Mr. Elliott Wakeling, 2017 Teacher of the Year.