DIS observes World Suicide Prevention Day
---
The World Suicide Prevention Day is an awareness day observed on 10 September every year. The DIS Guidance and Testing Center spearheaded the observance at school. Every year organization and communities around the world go together to raise awareness on how can we create a world where fewer people die of suicide. This year's theme is "Creating Hope through Action". A simple ceremony was live-streamed during the eight period to the Middle and High School homerooms.
Fr. Tomasz Zalewski, OP, the school chaplain explained the rationale behind the awareness campaign globally. He said "by encouraging understanding, reaching in, and sharing experiences we want the confidence of people to take action. To prevent suicide, requires to be a deacon of life to those in pain. You can be the light".
A video was shown about this year's theme. Its main message is "Suicide is preventable, it's not inevitable. Let's all do our bit and take care of ourselves and each other".
Likewise, five action items were presented - Learn the signs; Know how to help; Practice self-care; Reach out; and Spread the word of Hope and positivity.
The ceremony featured a moment of silence, which was offered together with the lighting of candle by our Directress/Principal Sr. Ma. Zenaida T. Ancheta, OP. The candle signifies "The candle of hope". It also means DIS supports and unites with the global community in this particular day".
Joining Sr. Zenaida, were Vice Principal Sr. Jacqueline Manuel, OP, and the school counselors, Ms. Anne Portillo and Ms Jihan Borres and Fr. Tomasz.
The ceremony ended with a closing prayer led by Sr. Jacqueline Manuel, OP with Fr. Tomasz and Claire Ko, Dominican Youth Movement member. High school students, Yi Ting "Joyce" Hung, Laasya Priya Potharaju and Aparajitaa "Aphi" Dammesha participated in the program.
Take time to reach out posters will be posted around the school to remind us our role and responsibility in helping the promotion of life.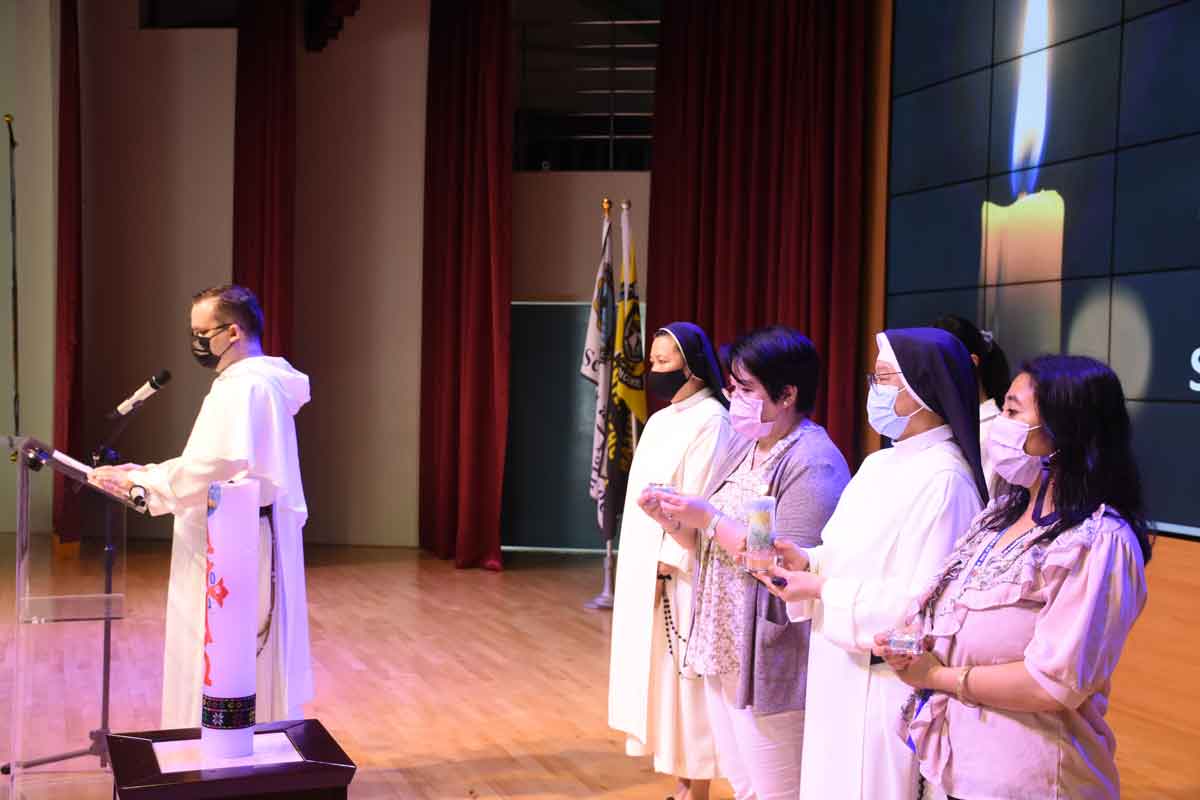 From left: Fr. Tomasz Zalewski,OP, School chaplain, Sr. Jacqueline Manuel, OP, Vice Principal, Ms. Anne Portillo, MS & HS Counselor, Sr. Ma. Zenaida T. Ancheta, OP, Directress/Principal and Ms Jihan Borres, LS Counselor.