First School Day 2022
---
The much-awaited first school day for the school year 2022-23 happened last August 10, 2022. It was a bright and sunny Wednesday morning. The gates were opened at 7:00 AM for the whole DIS Taipei community. Parents and guardians were given reminders before their child goes to school; (1) to measure their child's temperature before leaving home, if the temperature is greater than 37.5 °C - do not come to school - but inform the DIS Clinic; (2) Be sure to be at school before 7:45 am (Drop Off Only – Parents may not enter the lobby); (3) Wear the complete school uniform and a facemask; (4) Submit a negative rapid test result upon arrival; (5) Report to your designated Homeroom (Teachers, staff, Student Council, and DYM members will assist students upon arrival.)
The arrival time was extended until 8:25 AM to give students ample time to submit their negative rapid test results to the assigned faculty in the lobby and go to their homerooms. After which, the teachers and students gathered in the gymnasium for their usual general assembly. The members of the Student Council facilitated the assembly led by their president, Jennifer Wang. It was the first time in two years since the community gathered in the Gymnasium for its usual morning assembly.
On behalf of the Directress / Principal Sr. Ma. Zenaida T. Ancheta, OP, Vice Principal Sr. Jacqueline C. Manuel, OP welcomed the students and teachers. She mentioned that this year's theme is "DIS thrives at 65! A community journeying together. (65th Foundation Anniversary)" Mr. Joe Schoeman, the Academic Coordinator introduced the new teachers and students.
Then, the homeroom teachers gave their orientation in their respective homerooms. The regular schedule started at 10:45 AM for the middle and high school students, while for the lower school at 12:20 PM. The dismissal time for all students was 15:35.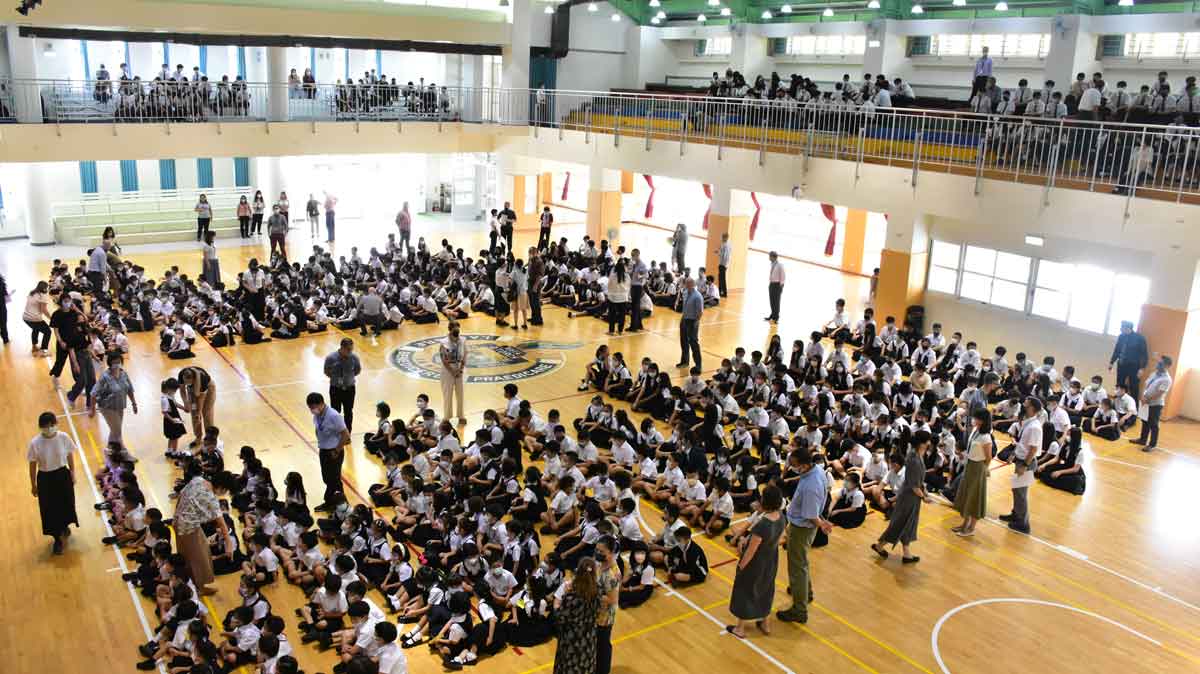 A bird's eye view of the general assembly.
---