65 with Dwight Howard
DIS Taipei celebrates its foundation anniversary every December 8. It celebrates its 65th Jubilee Year. A surprise visitor graced this unforgettable milestone for the school. No less than Dwight Howard, a former NBA player who played on numerous NBA teams. He plays now with Taoyuan Leopards of the T1 League. Fortunately, December 8 is also his birthday which he celebrates his 37th year. It was his wish to celebrate his birthday in front of young kids.
Dwight born in Atlanta, GA is an NBA Champion, eight-time All-Star, eight-time All-NBA Team honoree, five-time All-Defensive Team member, and three-time Defensive Player of the Year. In his 18-year NBA career, he played for Orlando Magic, Houston Rockets, Atlanta Hawks, Washington Wizards, Charlotte Hornets, Philadelphia 76ersand, and Los Angeles Lakers. With his 211cm height, he played center for all the teams he joined. He ranks 10th overall in the all-time rebounds list in the NBA with 14,627 rebounds.
He appeared on stage after the school celebrated its mass in the gymnasium. The students and teachers weren't expecting a celebrity will be guesting during the school's 65th Foundation Anniversary. More so, a former NBA player.
He gave an inspiring message that highlighted the core values of the school. He mentioned: Truthful, Organized, Reflective, Courageous, and Helpful are the right values that kids should have in life as well as sports.
The audience got more overjoyed when he stepped onto the basketball court and chose some students, teachers, and sisters to shoot at the fifteen-foot line with him. It was a very jubilant crowd. Everyone was chanting, "Howard, Howard, Howard".
D'TORCH 65ers: Believers… Achievers. A Community Journeying Together with St. Dominic.

65th Jubilee Year Theme
Dwight's visit to DIS wouldn't have been possible without the help and support of the members of the Volunteer Involved Parent (VIP), led by its chairperson Ms. Ellen Chu. Kudos to the VIP!
It was the first time in the history of DIS that an NBA player took part in its Jubilee celebration. A photo opportunity with the DIS family ended the event.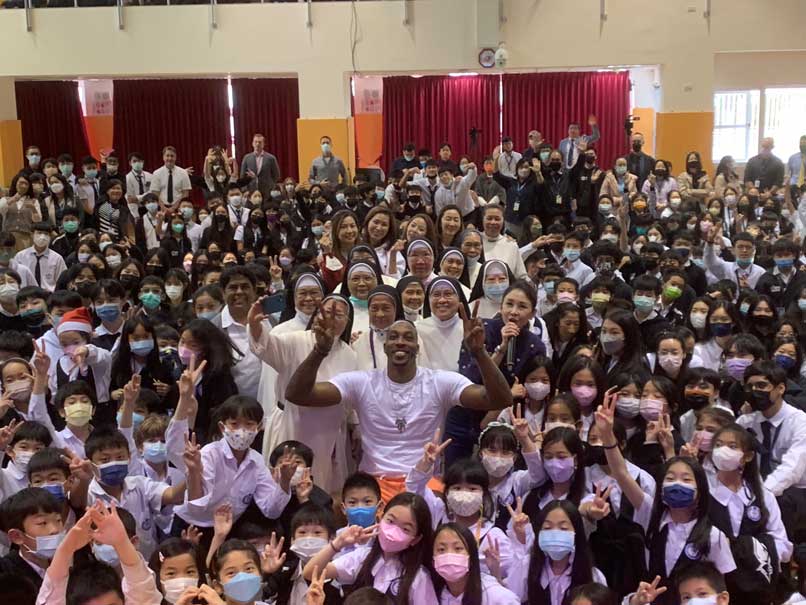 Dwight Howard with the Dominican Family.