Golden Jubilee Celebration
50 Years of Religious Life
---
Sr. Ma. Zenaida T. Ancheta, OP celebrated her 50th year of Religious Life last January 4, 2023. It coincided with her 71st birthday. Her religious name is Sor Ma. Zenaida of Blessed Jordan of Saxony Ancheta y Tenderro, OP. Friends and relatives from all over the world graced the occasion. Sor Zen as she is fondly called is the Directress/Principal of the two Dominican International Schools in Taiwan (Taipei & Kaohsiung).
Her siblings, Cipriano Ancheta, Luisa Ancheta Collum, and Norma Ancheta Maladaga traveled from The Philippines to celebrate with her. Also present, were cousins, Sr. Lorna Rosario, and Fr. Manuel "Manny" Gelido.
Friends from Dominican Catholic School, Guam, Dominican International School Taipei, and Kaohsiung attended the celebration. Also present were the Directresses from the Dominican schools in The Philippines.
The celebration had three parts – Part one: The Eucharistic Celebration - Religious Vows; Part two: The Luncheon get-together; and Part three: The Musical Program.
Part One
The mass was held at the DIS Taipei gymnasium at 10 o'clock in the morning. The main celebrant was Rev. Fr. Manuel T. Gelido. The concelebrants were Friars of the Order of Preachers, Priests from the Archdiocese of Taipei, Claretrian Missionaries, and Scalabrinian Father. The Friars were Fr. Andrzej Wójcik, Fr. Solomon Ho, Fr. Vincent Pan, Fr. Tomasz Zalewski, Fr. Narciso Estrella, Jr., Fr. Jeffrey Aytona, Fr. Julius Paul Factora, Fr. Prudencio Garcia. The Claretian Missionaries were Fr. Liju Kuriath, Fr. Bobin Punnackapadavil, Fr. Arturo Morales, and Fr. Francisco Carin. From the Archdiocese of Taipei is Fr. Val Rodriguez. The Scalabrinian father is Fr. Edward Pacquing, CS.
Part Two
Everyone was treated to a hearty luncheon feast that served as a get-together gathering of friends and relatives. It was held at the Grand Ballroom of the Grand Victoria Hotel which was located in the Zhongshan District, Taipei.
Part Three
At 4 o'clock in the afternoon, everyone gathered in the DIS Taipei gymnasium again to witness the spectacular musical presentation of the D'TORCH orchestra. The Orchestra conductor is Mr. Ronaldo Francisco, a Music teacher at DIS Taipei. Ms. Zoe Lin had her Orchestra class perform as well with three repertories. Mr. Samir Eddio serenaded the audience with the song Perhaps Love. It is one of the favorite songs of Sr. Zenaida. On behalf of the parents, VIP Chair Ms. Ellen Chu, greeted Sr. Zenaida.
Ms. Ellen said it was truly a remarkable event for all of us. She presented a cake to Sr. Zen that made the audience sing the birthday song.
To delight the crowd, a video presentation prepared by the MIT Department was shown.
The program ended with Sr. Zenaida giving a Word of Thanks. She stated "For all that has been… "Thank you, Lord". For all that will be… "YOU!" She gifted each attendee with a once-in-a-lifetime coffee table book.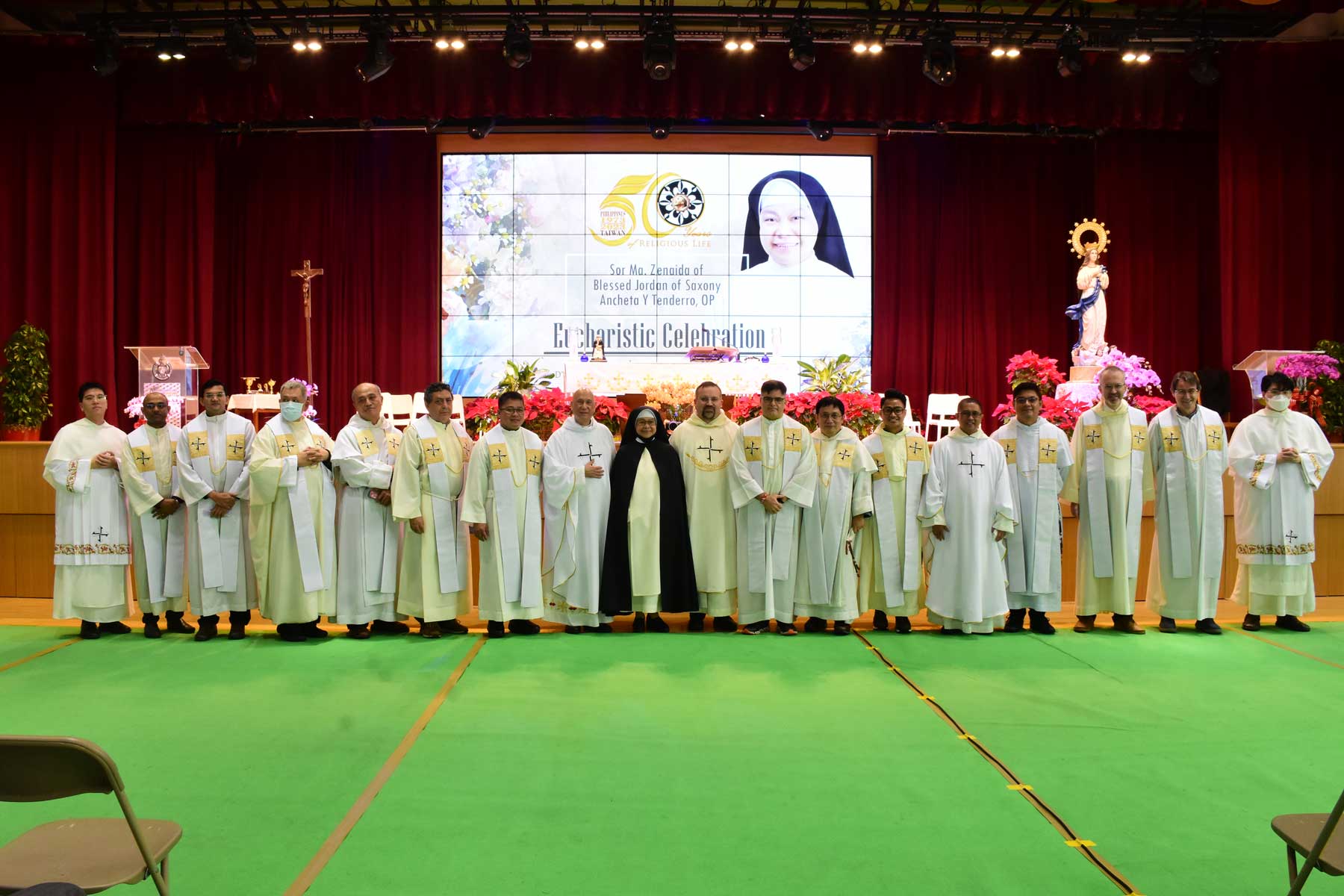 Sr. Zenaida with the Friars of the Order of Preachers, Priests from the Archdiocese of Taipei, Claretrian Missionaries, and Scalabrinian Fathers.
Sor Ma. Zenaida T. Ancheta, OP
71st Birthday & Golden Jubilee Video
---